My husband recently took a week off work to visit his parents in the French countryside. Where he comes from is charming and picturesque. There's forest as far as the eye can see, and when you're not looking at the rolling green mountains, you're likely to be looking at rustic farms or fields of cute, woolly cows – not the boring black and white ones we get at home.
I'm a self-confessed city girl and so I don't always go with him. For me, a day or two in the countryside is enough, more than that and I start to go a little stir crazy. This trip was for a week so I decided to give it a miss. I also had a bad ankle so there was really nothing for me to do there. I stayed where the internet was fastest – chez moi.
You're probably wondering why I'm rambling on about my husband and his hometown, there is a point to my story, I promise! Whenever Julien visits his parents, he returns with enough cheese, meat, vegetables (not to mention the jams, conserves, pâtés etc.) to feed Paris and its outer suburbs. I'm going to make a generalisation here and say it's a French thing? Correct me if I'm wrong! I couldn't imagine going to my mum's house and coming home with a leg of lamb & a box of tomatoes. I appreciate it, but it's a very foreign concept to me.
This time without me there, my husband came home with more food than ever before (it's usually me who keeps the quantity as limited as they allow). Luckily for him, he had kilos of an ingredient I am particularly fond of, blueberries. Perfect for making this Wild Blueberry Pie!
This wild blueberry pie is pretty simple to make but for it to be a success, some love and attention need to go into the pie crust. To achieve nice flaky layers of pastry, be sure to add vinegar to the water. This stops gluten from developing in the dough, giving you a flakier pastry. It's also really important not to overwork the dough. Make sure lumps of butter remain. It's ok if the dough isn't smooth. A shaggy, lumpy dough will make for better pastry.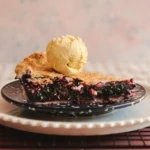 Print Recipe
Wild Blueberry Pie
Ingredients
ULTRA FLAKY PIE CRUST
375

g

of plain flour

70

g

of sugar

1/2

tsp

vanilla

seeds or paste

pinch

of salt

250

g

of really cold butter

in cubes

30

ml

of vinegar mixed with 100ml of icy cold water
BLUEBERRY PIE FILLING
1

kg

of frozen blueberries

or a mixture of fresh & frozen

100

g

of sugar

1/2

tsp

of vanilla seeds or paste

3

tbsp.

of cornflour

1

egg

1

tbsp.

of milk

some raw cane sugar
Instructions
ULTRA FLAKY PIE CRUST
In a food processor, pulse the butter, flour, salt, sugar & vanilla. Don't pulse for too long as you want to retain chunks of butter. Transfer into a large bowl, create a well in the centre and add the water & vinegar.

Use a knife to slightly mix together ingredients, then use your hands fold the dough until it comes together to form a shaggy ball. You don't need a smooth dough so don't worry about any chunks of butter or flour.

Cover with plastic wrap and place in the fridge for a least an hour before using.
BLUEBERRY PIE FILLING
Combine the blueberries, sugar, vanilla & cornflour and set aside for at least an hour or until defrosted and juicy.

Roll out the pastry into 2 large circles. Line a tart dish with one portion.

Strain any excess juice from the blueberry mixture and discard.

Fill the pie dish with blueberries and cover with remaining pastry.

Crimp the edges and decorate however you like.

Whisk together the egg and milk and lightly brush a thin coat over the pie before sprinkling with cane sugar.

Bake for 15 minutes at 200 degrees C, then reduce the oven temperature to 170 degrees and bake for an additional hour.

If you like your pie to have a runny filling, feel free to eat the pie as soon as it has slightly cooled. If you're like me, however, and prefer a denser filling that cuts clean, refrigerate the pie overnight before slicing.