From prepping to cooking, to pairing and serving, rhubarb can be a little intimidating. After speaking with many friends and gourmands alike, the general feedback I receive, is that no one knows just what exactly to do with rhubarb. Many fear the flavour too bitter while others just haven't a clue where to start. As a huge fan of rhubarb myself, I thought I'd create this guide to help you with everything from selecting rhubarb to preparing and cooking it.
Availability
In France, rhubarb tends to be of the first of spring fruits to hit market stalls. Most years, it can be found early March and will be available until the end of June. Keep in mind that early spring rhubarb tends to be much more flavoursome than when grown in summer.
In other parts of the world, particularly in the US and England, rhubarb is divided into two categories: Forced and Field-grown. Forced rhubarb is incredible bright, boldly coloured and much sweeter than field-grown rhubarb. Its distinct colour is due to the fact that it's lifted from the soil late in the year and replanted inside a warm, dark shed. Traditionally, it's harvested in the middle of the night. It's said that when it's silent in the forcing shed, it's possible to hear a creaking noise as the rhubarb grows.
Forced rhubarb is available from late December until March. I've only ever seen it available once at an organic market during the start of March. If you're on the hunt for some, market venders will typically scribble 'forced' in the corner of their sign.
Field-Grown rhubarb is what's typically found here in France. It's grown traditionally in a field and is available from April until July.
What to look for
When choosing rhubarb there's one important fact to keep in mind: the greener the stalk the more bitter the taste. Ideally, choose bright, magenta stalks that are firm and flat. Limp or curling stalks are a sign the rhubarbs getting old and should be used right away.
Rhubarb is often over-priced in French supermarkets, so try to purchase it from your local market. In general, if you're paying over 6€ a kilo, you're paying too much.
Nutrition
Loaded with vitamin A, vitamin C, vitamin K and more calcium than a glass of milk, rhubarb is a nutritional powerhouse. It's also known to help treat Alzheimer's, fight cancerous cells and even assist in weight-loss. I recommend checking out this article to learn more.
Storage
Rhubarb will general store well for 1-2 weeks in the fridge. However, if you need to store it longer, loosely wrap the stalks in aluminium foil so they are completely covered. This will allow you to store it in the fridge for up to a month. Rhubarb can also be frozen fresh or once cooked.
Cooking rhubarb
Rhubarb can be stewed, roasted, puréed or macerated. I recommended peeling field-grown rhubarb before cooking it, as this will remove any stringiness. Forced rhubarb, on the other hand, tends to be more tender and can be left as is.
Due to the bitterness of rhubarb, it is almost always cooked with a decent amount of sugar. However, combining rhubarb with other naturally sweet fruits, such as strawberries or oranges, can allow you to reduce the amount of added sugar.
While rhubarb is fantastic in sweet recipes – think pies, cakes and crumbles, it's also delicious in savoury dishes. Try pairing roast pork belly with a chunky rhubarb chutney, or pickling the rhubarb and serving with pan-fried mackerel.
Here are some of my favourite rhubarb recipes:
Rhubarb and crème fraiche tart recipe
My all-time favourite recipe, however, is Rhubarb and crème fraiche tart. The crust is loaded with butter and melts in your mouth while the filling is sweet, creamy and filled with delicious tart rhubarb. The key to making this recipe ultra-delicious is in the preparation of the rhubarb. Once its chopped into 1-2cm sized pieces, rub it with sugar (vanilla sugar if possible) and leave it to rest for at least an hour or overnight. This step really helps to keep the bitterness at bay while bringing out the rhubarb flavour.
I originally found this recipe on the Great British Chefs website. I've slightly adapted it, but the original recipe was so good I didn't want to alter it too much.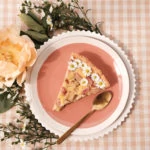 Print Recipe
Rhubarb & Crème Fraiche Tart
Ingredients
Shortcrust pastry
125

g

of butter

cold and diced

250

g

of flour

15

g

of sugar

¼

tsp

of fleur de sel

¼

tsp

of vanilla seeds

1

egg

lightly beaten

2

tbsp

of water
Tart filling
400

g

of rhubarb

180

g

of crème fraiche

1

egg

2

egg yolks

75

g

of sugar

1

tbsp

of cornflour

1

vanilla bean

seed scrapped

35

g

of sugar
Instructions
In a large bowl, use your fingers to rub together the butter, flour, sugar, salt and vanilla, until it becomes a sandy texture. It's ok to leave some small pea-sized pieces of butter. Add the whisked egg and water and knead until just combined. It's better to under-knead the dough then to over-kneed it.

Flatten the dough into a large disk, wrap in clingfilm and refrigerate for at least an hour or ideally overnight.

Peel the rhubarb and chop it into roughly 2cm pieces. Sprinkle with the 75g of sugar. Cover and refrigerate for at least an hour or overnight.

Preheat the oven to 175°C and lightly grease a large pie dish.

Roll out the dough between two pieces of baking paper then transfer into the prepared dish. Prick the base thoroughly with a fork then blind-bake for 25 minutes.

Meanwhile, whisk together all remaining ingredients until smooth. Once the tart shell has finished blind-baking, remove it from the oven and allow to cool for 5 minutes. Add the rhubarb, discarding any excess liquid, then pour over the previously prepared crème fraiche mixture.

Bake for 40minutes or until the mixture has completely set. Allow to cool before serving.