Happy Australia Day!! Ok, I'm a little in advance – it's not until the 26th – but each year it seems to sneak up on me and I miss it! Well, not this year! To celebrate both Australia day and my new found organisational skills, each day this week, until the 26th, I'll be sharing with you an Aussie inspired recipe. I'm not going to reveal what they are now, you'll have to wait and see, but to get this party started, I couldn't resist sharing with you all my foolproof pavlova recipe.
I've tried, tested and screwed up so many pavlova recipes. So many, that I've become somewhat of pavlova expert. Now, before I share with you my secrets for success, I must clear something up. Pavlovas and meringues are not the same thing. A pavlova should not be crunchy all the way through, nor should it be sticky or chewy. It should have a crispy outer shell and the interior should be the lightest, most airy texture you could possibly imagine. To obtain this texture, you need to follow a few rules, which is why I've created this little guide. I really recommend reading it before you get started.
You're guide to perfect pavlovas
I know you've heard this before, but it's essential to start with clean bowls that are free from any traces of oil or grease.
Make sure your eggs are at room temperature. The sugar wont properly dissolve in cold eggwhites.
Avoid at all costs, getting egg yolk in your eggwhites.
Your sugar must be unbelievably fine. I put mine in a food processer for 5-10 minutes before I use it.
Always add vinegar and cornflour.
Cream of tartar, is my secret ingredient. It ensures the pavlova stays beautifully smooth and white.
Add the sugar slowly, one tablespoon at a time. This process normally takes me approximately 3-4 minutes.
Don't over-whip the pavlova once all the sugar has been added, otherwise your pavlova will have too many cracks.
Bake at 120°C for roughly 30 minutes for small pavlovas and a maximum of 1 hour and a half for larger pavlovas.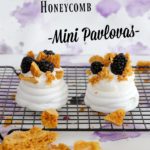 Print Recipe
Blackberry and Honeycomb Mini Pavlovas
Ingredients
For the Pavlovas
– 150g of egg whites

– 280g of extra fine caster sugar

– ½ tsp of crème de tartar

– 2 tsp of cornflour

– ½ tsp of vinegar
For the Honeycomb
– 70g of golden syrup

– 200g of caster sugar

– 3 tsp of bicarbonate
To assemble
– 300g of blackberries

– 300g of cream

– 30g of icing sugar

– 1 vanilla bean

seeds scraped
Instructions
The Pavlovas
Preheat the oven to 120°C

Place the sugar in a food processor and blend for 5-10 minutes. Meanwhile, place the eggwhites in large bowl and beat with an electric mixer until foamy. Slowly add the sugar to the eggwhites, one spoonful at a time. Once all the sugar has been added, continue to beat until stiff peaks form (roughly 5 mins). Use a spatula to fold in the remaining ingredients.

Fit a piping bag with large nozzle and fill with the pavlova mixture. Pipe 8 nests onto a baking tray covered with baking paper. Place in the oven and bake for 35 minutes.
The Honeycomb
Line a casserole dish or deep baking tray with baking paper and set aside.

Place the golden syrup and caster sugar in a large saucepan, over medium/ high heat. Mix from time to time and allow the sugar to melt. Continue to heat to 160°C. Once it has reached this temperature, add the bicarbonate soda. Whisk for 10 seconds then pour into the prepared dish. Allow to cool and harden for 30 minutes, then smash into small chunks.
To Assemble
Take roughly 100g of the blackberries and chop them into smaller pieces. Poke a small hole into the top of each pavlova and push in some of the chopped blackberries.

Whip the cream with an electric mixer and gradually add the icing sugar and vanilla. Whip until stiff peaks form. Fill a piping bag with the cream, then pipe a large swirl of cream on top of each pavlova. To finish, sprinkle with lots of honeycomb and decorate with fresh blackberries.