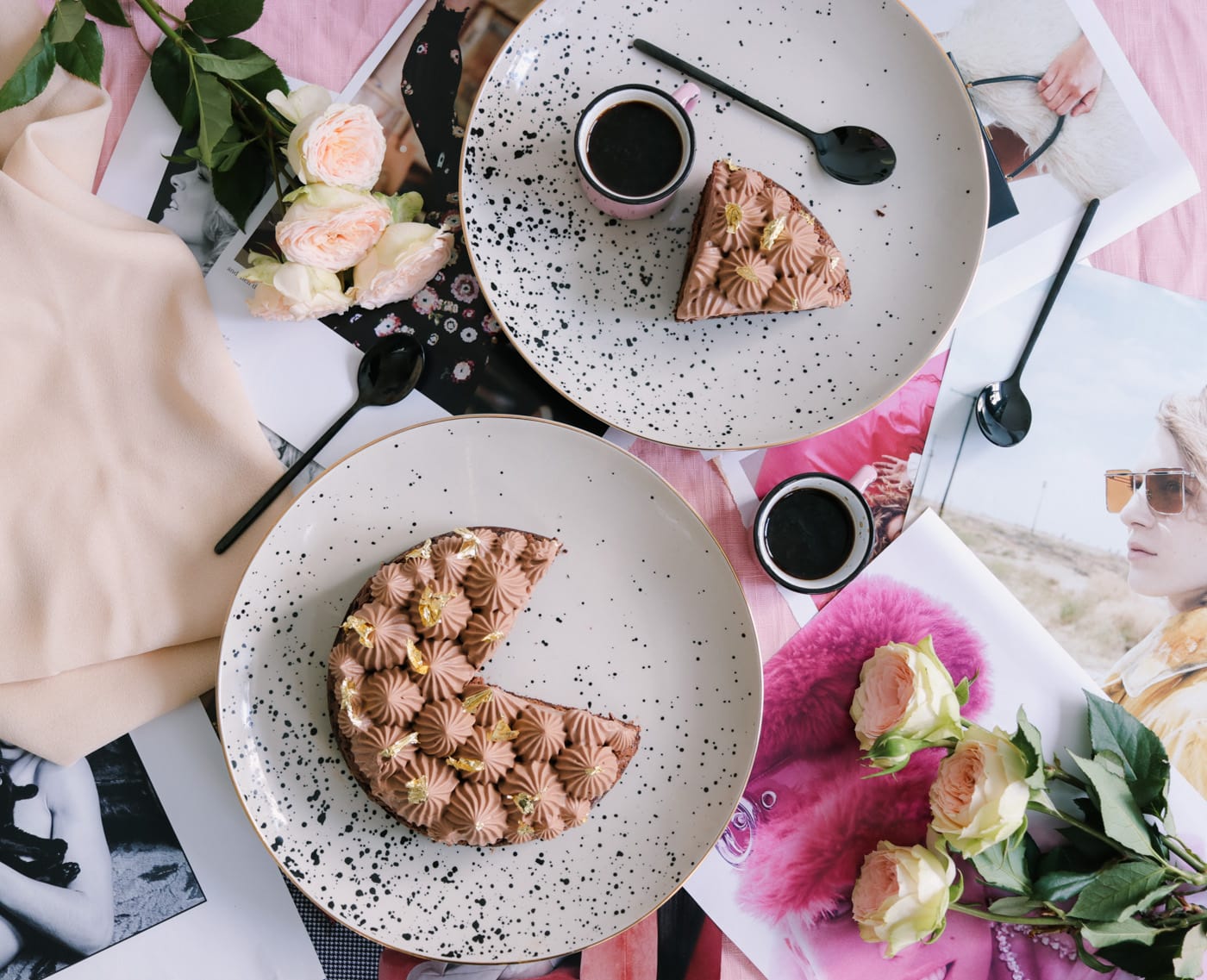 With a chocolate financier base, a crunchy hazelnut praline layer and lashings of whipped ganache, this Easy Chocolate Crunch Cake could not be more irresistible!
When it comes to baking, my husband is my harshest critic. The moment he takes a mouthful, I can tell instantly if he likes it or not. No words are needed, I can just tell. I guess that's the great thing about being married. You know each other well enough that a single glance can represent a hundred words. Often his glances mean my recipes need more work, a tweak here or there, but with this recipe, that was not the case.
He originally tried this recipe without the ganache and he was already hooked. I felt it needed something creamy to balance out the textures and so I added some whipped milk chocolate ganache. That took things to a whole other level. The cake is light enough that it can be eaten with a coffee for breakfast and decadent enough for an after-dinner treat.
I made a small cake (15cm in diameter) which serves 2-4 people, depending on your sweet-tooth. However, you can easily double the quantities and make a bigger one.
Easy Chocolate Crunch Cake
Ingredients
For the whipped milk chocolate ganache (prepare in advance)
55g of cream
75g of couverture milk chocolate, chopped into small pieces
130g of cold whipping cream
For the chocolate financier
65g of butter
10g of dark chocolate, melted
60g of icing sugar
5g of cacao powder
20g of flour
a pinch of baking powder
30g of almond meal
2 eggs whites
For the crunchy layer
90g of crepes dentelles, crushed
90g of praliné (or Nutella)
60g of dark chocolate, melted
Instructions
For the whipped milk chocolate ganache (prepare in advance)
Heat the 55g of cream over medium/low heat until it comes to a boil. Pour it over the chocolate and mix until smooth. Add the cold cream, stir well, then place in the fridge for at least 2 hours.
Whisk the ganache until stiff peaks form. Fit a pipping bag with a large tip and fill it with the ganache. Set aside.
For the chocolate financier
Preheat the oven to 180°C and grease a 15inch cake tin.
Place the butter in a saucepan over med/high heat and allow the butter to melt and boil until it becomes slightly darker in colour and starts to smell nutty. Pour the butter into a small bowl and set aside to cool to room temperature.
Sift the cacao powder, flour, baking powder and almond meal into a large bowl. Stir in the eggwhites, then the butter and chocolate.
Pour into the prepared cake tin, use a spatula to smooth the surface and bake for 12 minutes. Allow to cool.
For the crunchy layer
Mix together all the ingredients until a thick paste forms. Using the back of a spoon, smooth a layer over the financier. Take the pipping bag filled with ganache and pipe small domes all over the cake. To finish, decorate with edible gold leaf.